Ethical & Earth-Friendly Engagements
Let's talk about commitment—to your partner, and the earth. If sustainability, carbon offsetting, and zero waste are part of your daily lexicon, this is the blog for you. There are many ways to ensure your engagement aligns with your core values. The easiest place to start is finding a jeweler who champions sustainability throughout their business model—including eco-friendly practices and (of course) ethically-sourced stones. All of our diamonds pass the conflict-free Kimberley Process criteria with flying colors, and are sourced through trusted industry experts who demonstrate strong tracing principles. (We looove our Misfit Diamonds sourced in Canada Minded under strict regulations!) We love an ethically sourced, natural diamond as much as the next jeweler, but natural diamonds aren't *the best* in terms of their carbon footprint. If the greenest possible option is more your cup of tea, let's jump into some diamond alternatives that are friendly to the planet AND your wallet.
We love working with Moissanite (pronounced mwah-sahn-ite) since it has many similar properties to natural diamonds, but they're mother-earth approved and a fraction of the price. Moissanite is created in a lab—which means no mining necessary. Moissies score a 9.25 on the Moh's scale of Hardness (diamonds top the scale at a 10), so it's still a very worthy option for busy hands. Not only will Moissanite hold up to the elements, but it sparkles. like. mad. It has a higher Refractive Index and a higher dispersion rate than a diamond, so you'll see this stone's brilliance all the way across the room. If you're loving the sound of this stone, read up on Moissanite.
What do you call a diamond that looks like a diamond, sparkles like a diamond, has the same chemical composition as a diamond, and is made in a lab? You guessed it—lab diamonds aren't just like the real thing, they ARE the real thing, but without all the conflict and carbon footprint. And did we mention they're way more affordable—around 40-60% less than a natural diamond? (It's hard NOT to talk about it.) Many are flocking to lab-grown stones to maximize their budgets and their commitment to sustainability. We've got a stunning stock of loose stones to choose from thanks to our partner, the leading supplier of lab stones, the Diamond Foundry. Design your next lab-grown sparkler here.
Okay, so these ones aren't quite diamonds—but their composition naturally mimics the clarity and faceting of them! Herkimers are double quartz stones, abundantly found in Herkimer County, New York. If you're into crystal energy, this stone is definitely for you. They have powerful high-vibration qualities and are commonly known as "the stone of attunement". These double quartz beauties are mined with conflict-free & eco-friendly practices. (We looove that for them!) But let's get back to the sparkle, shall we? You can rock these stones in their natural crystalized form, or opt for a more traditional cut. Shop our selection of Herkimer diamond jewelry.
Not every diamond comes perfectly cut and colorless—and we LOVE that about them. We carry a selection of stones in not-so-common shapes, colors, and clarity through our partnership with the leading alternative diamond sourcing company, Misfit Diamonds. Since these stones aren't in the highest demand, and they're sometimes cut from "scraps" of other diamonds, they help to maximize the use of each and every mined stone. It's almost like your very own up-cycled gem. Want to go modern? Try a trapezoid or a rose-cut stone for an angular silhouette. Love warmer tones? Try a champagne diamond—colors range from L–Z (and they pair beautifully with yellow gold). Looking for a super one-of-a-kind ring? Salt & pepper diamonds have an abundance of inclusions, mimicking the milky way or a fossilized look. Each stone is completely unique.
We've recently acquired *an amazing* batch of natural Canadian-sourced diamonds through Misfit Diamonds. They're mined with a focus on minimizing environmental impact, and the organization maintains a close relationship with the indigenous peoples who live in the area. Misfit Diamonds has taken a close eye on the mining process and we believe they are leading the gold standard in producing beautiful, natural stones.
While diamonds are certainly foreva, there are other colored gemstones (like Sapphires) that are durable (and gorgeous) enough for daily wear. We'll dive deeper into the world of gemstones in future posts, but if you're itching for more, here's the lowdown on Sapphires.
Want to really push the green agenda? Once you've crafted the ring of your dreams, you could incorporate green practices into your proposal! Maybe do a little beach cleanup together, then pop the question (and the bubbly) at sunset? Or, volunteer to plant trees with a local organization, then surprise your partner with a picnic (and a super-sparkly something to feast their eyes on).
An environmental-first focus is only one of our major pillars—for more about our 3-phase approach to sustainability, visit our Ethos page. For every custom design we make, we'll donate $50 to a cause you care about most.
Do Good, Look Good, Feel Good.

Love Always,
Angela Monaco Jewelry

Misfit Diamonds Collection Highlights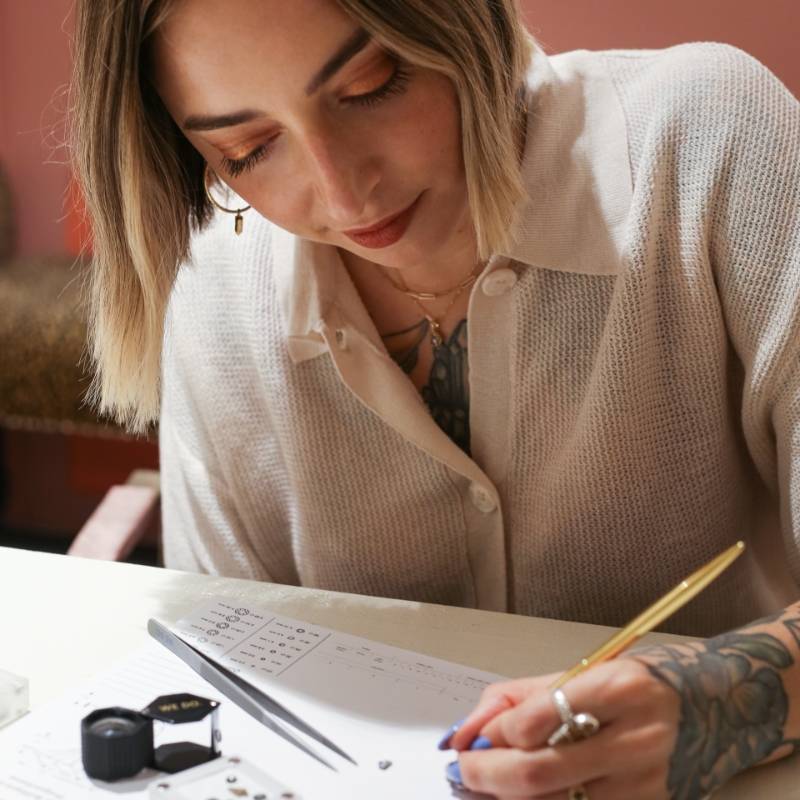 With ten plus years of jewelry experience, Angela's collaborative approach to custom jewelry design allows for each love story to shine.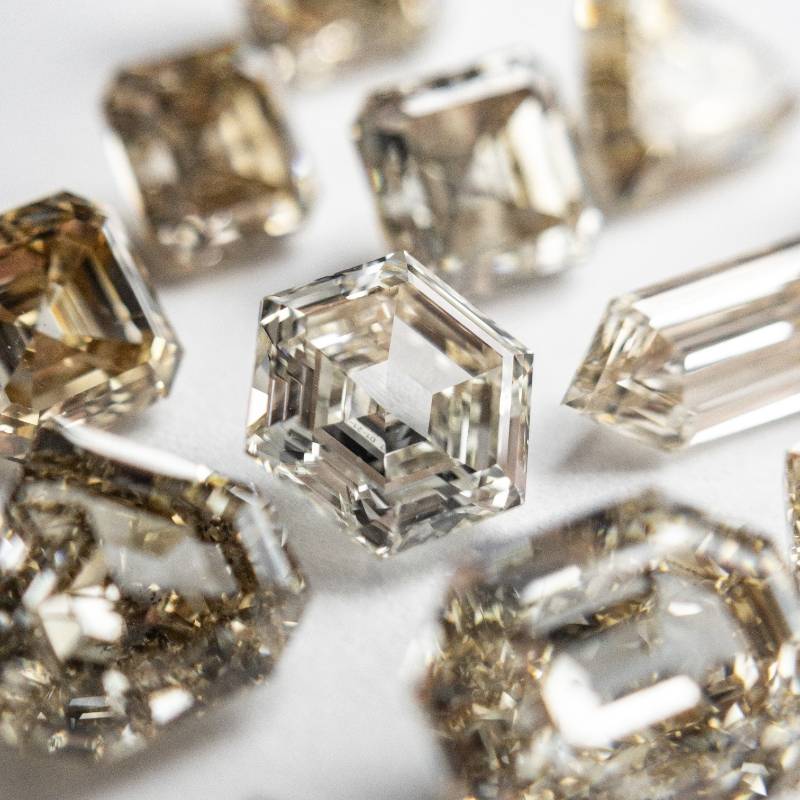 Our partnership with Misfit Diamonds means we get to bring you the biggest collection of loose diamonds like these beautiful new Canadian gems.