Magic Sapphires: Why September's Birthstone is our Favorite
With September right around the corner, we've got sapphires on our minds. Read about why we at Angela Monaco Jewelry value this multifunctional (and beautiful!) gemstone which led to a recent partnership with Misfit Diamonds to offer our clients an extensive selection of loose sapphires for custom jewelry orders.
Sapphires, of the mineral corundum, come in a rainbow of hues such as peach, violet and grey; and their healing properties and vibrations differ greatly. The term "fancy sapphires" is used for all non-blue sapphires. Depending on the saturation of color found in pink sapphires, they may even be designated as rubies.
Blue sapphires, mined across the globe, range in tone from pale aqua and deep teal to velvety indigo and silvery cobalt. Many regions possess unique variations of the blue sapphire, adding to the gemstone's international appeal. For example, the "parti sapphires", from Australia and Madagascar, are known for their dual hues.
Blue sapphires, with their celestial appearance, are known to be a symbol of the divine. Representative of spiritual wisdom and insight, the sapphire is found throughout religious texts. Sapphires symbolize abundance and regality but also metaphysical knowledge and clarity making them the perfect adornment for kings and spiritual guides alike. Sapphires lead the wearer to a deeper connection inward, to the consciousness, and outward, connecting to the planetary bodies, specifically Saturn, with which the sapphire has long been associated.
Coming in third on the Mohs scale (after diamond and Moissanite), the sapphire's hardness makes it a great choice as a center stone for engagement or heirloom jewelry pieces.
Angela Monaco Jewelry proudly partners with Misfit Diamonds to offer a vast array of sparkling loose sapphires that are available for custom jewelry orders.
For more information on creating your own custom sapphire jewelry piece with Angela Monaco Jewelry, please email us at info@angelamonacojewelry.com or complete our custom jewelry consultation request form here.

Love Always,
Angela Monaco Jewelry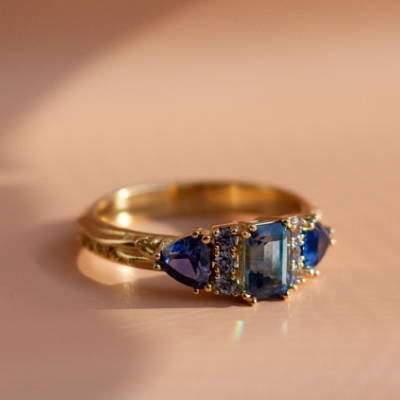 With ten plus years of jewelry experience, Angela's collaborative approach to custom jewelry design allows for each love story to shine.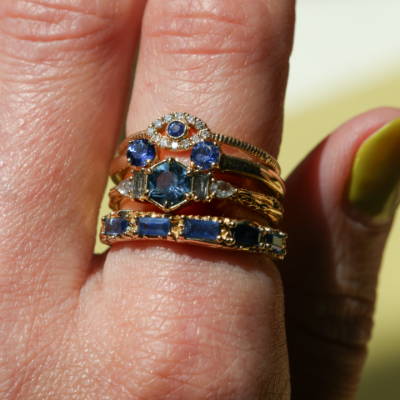 At AMJ, we have a broad selection of Sapphire jewelry, both in-stock and made-to-order. Whether you're looking for rings or other bling, we've got you covered.