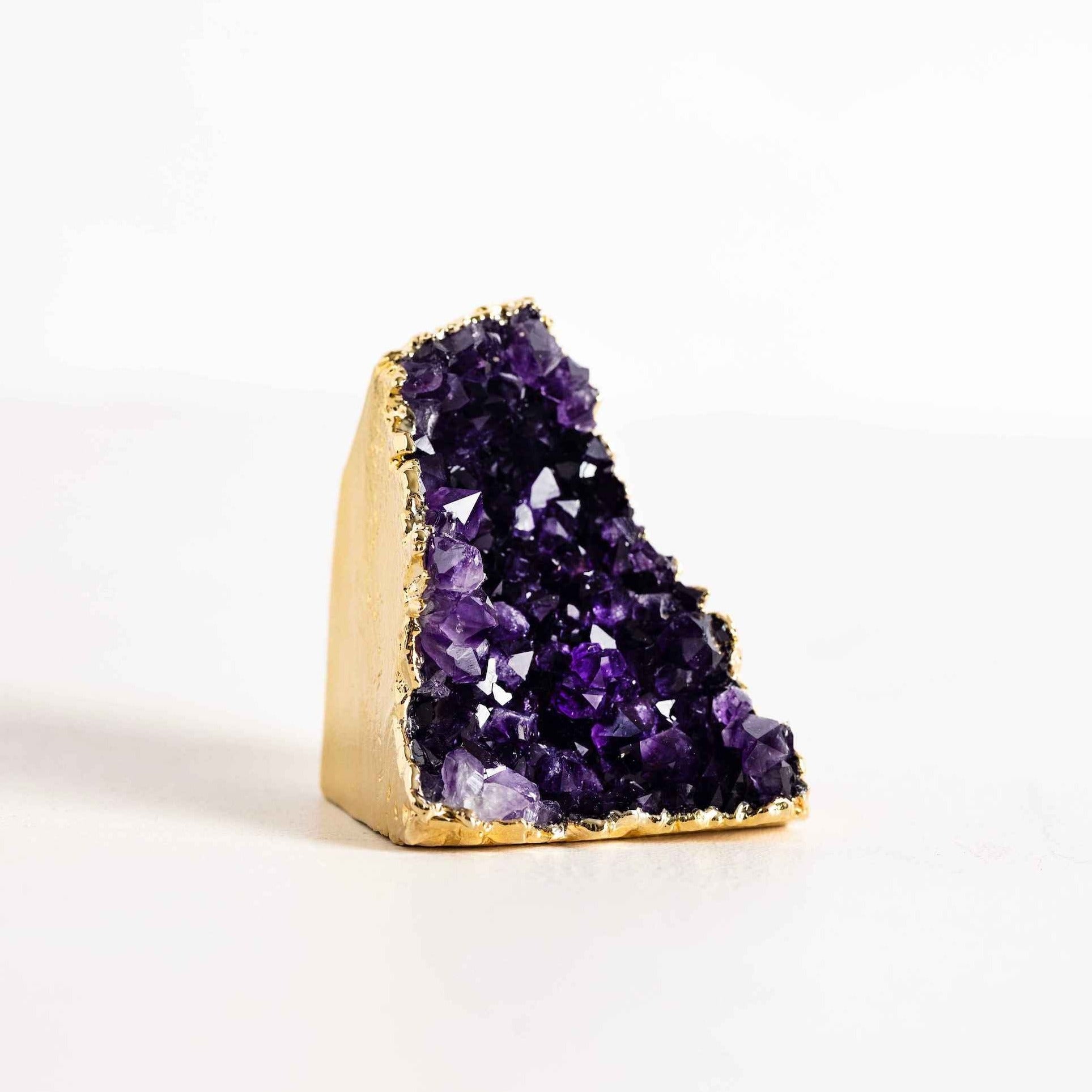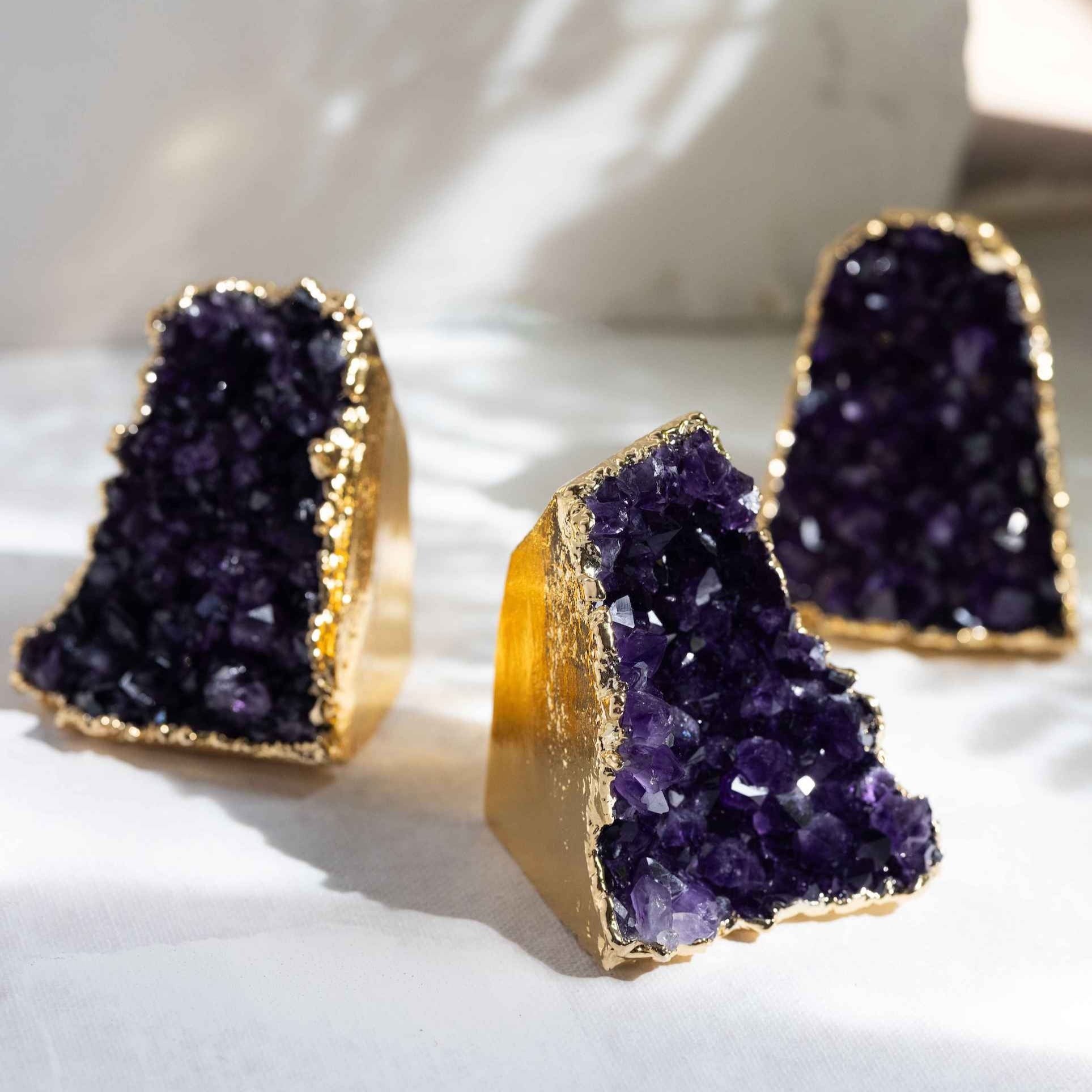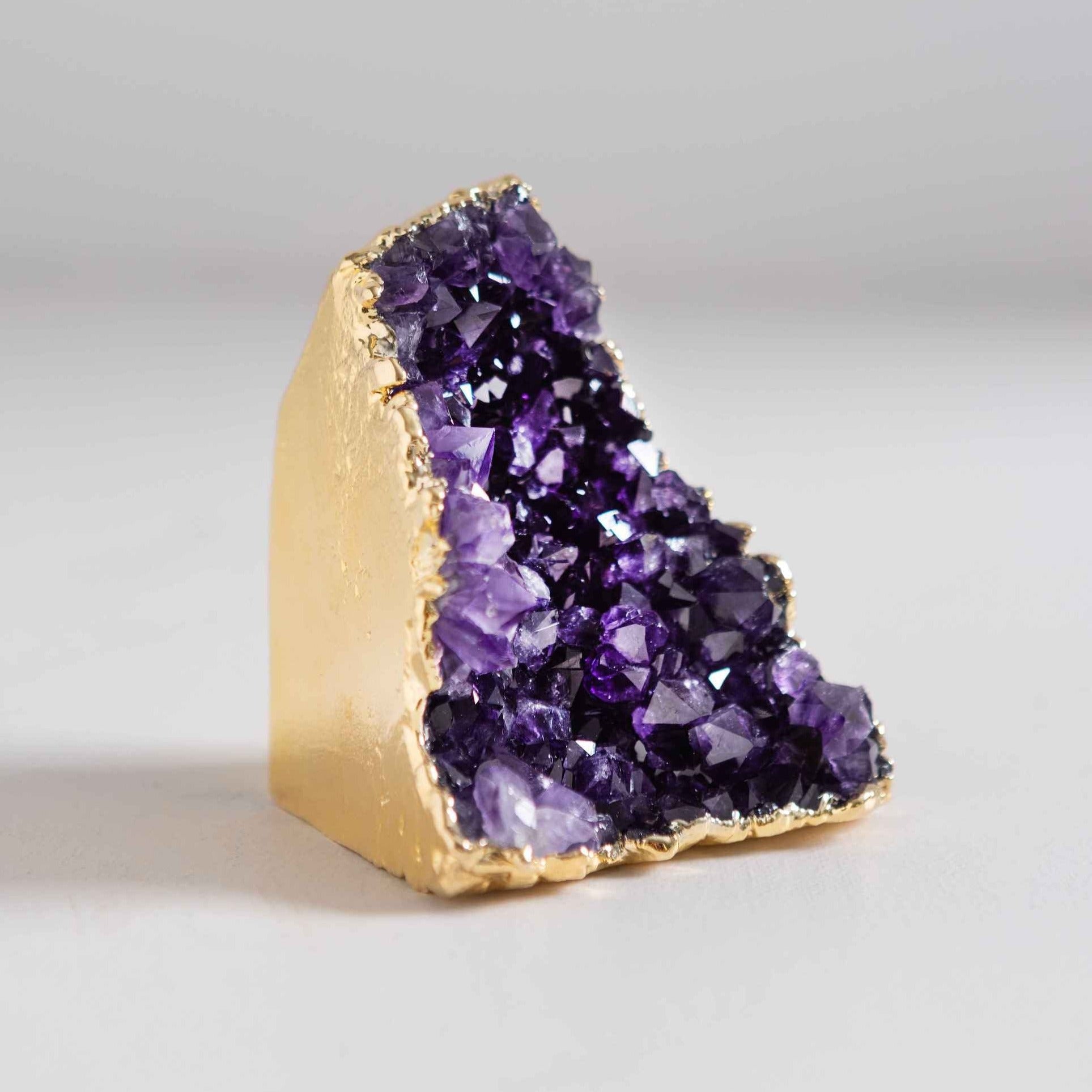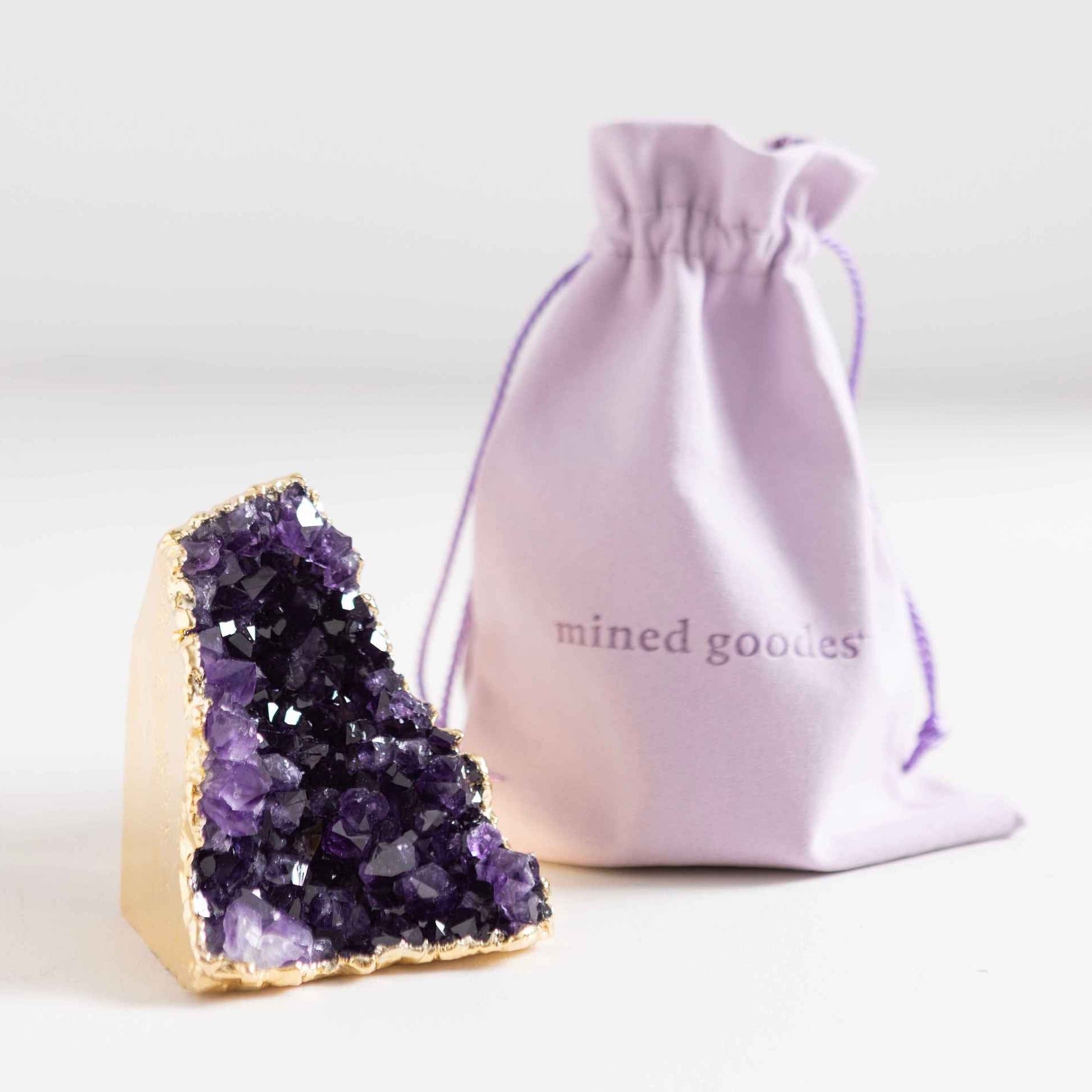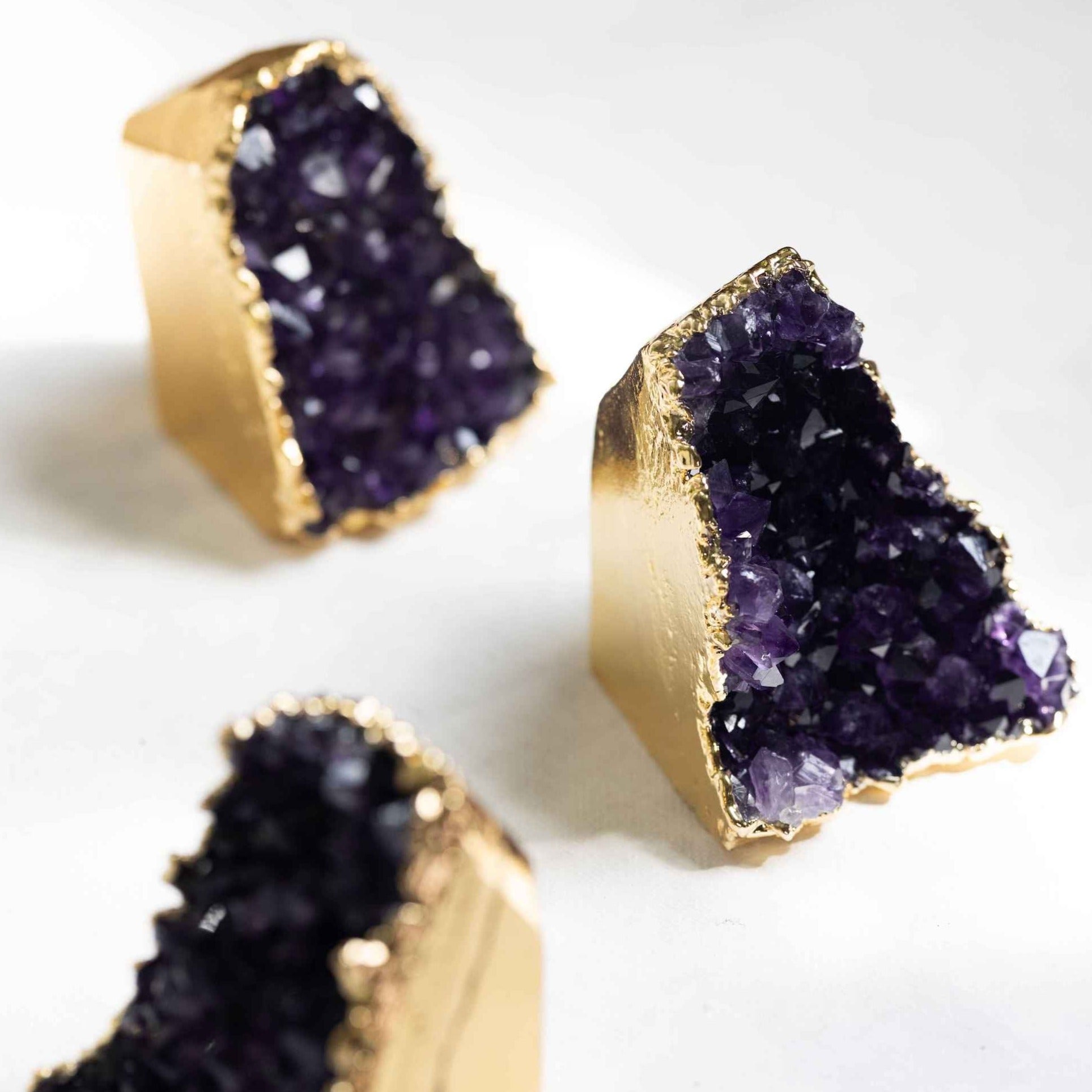 GOLD PLATED AMETHYSTS | MINED GOODES
Description
large gold plated amethyst by Mined Goodes. Available in five sizes! 
Introduction
In listening to the universes messages Matt decided to transform the couples basement into a workshop so that he could set out on his life's mission of producing visually stunning and spiritually lifting gold-plated amethysts. 

Gold-plating amethyst is a captivating practice that combines the allure of precious metals with the enchanting beauty of this remarkable gemstone. There are numerous benefits of adorning amethyst with a layer of gold, which highlights the pieces aesthetic appeal, and also elevating its energetic enhancements. Discover how this unique combination can elevate your style and amplify the positive energy in your life.
Aesthetically Pleasing Fusion
Gold-plating amethyst creates a visually striking fusion, where the regal warmth of gold effortlessly complements the mesmerizing purple hues of the gemstone. The lustrous gold coating adds an element of opulence and sophistication to the gem, accentuating its natural beauty. Our humanely sourced AAA-quality amethyst comes from a family mine that we work closely with. 
Gold-plated amethyst pieces are guaranteed to catch the eye and make a lasting impression. This combination offers a harmonious blend of luxury and natural elegance that appeals to those seeking distinctive and refined aesthetics.
Amplifying Energy and Spiritual Properties
Amethyst, known as the stone of spiritual growth and healing, possesses unique energy-enhancing properties. When combined with gold plating, the amethyst's metaphysical qualities are believed to be amplified. Gold is associated with abundance, wealth, and positivity, and it is said to magnify the amethyst's innate spiritual properties. The fusion of gold and amethyst is thought to create a powerful synergy, promoting emotional balance, clarity of mind, and spiritual awakening. Displaying gold-plated amethyst can help foster a sense of tranquility, protection, and spiritual well-being, making it a popular choice for those seeking holistic healing and positive energy.
Durability and Longevity
While our gold-plating process creates a layer of 24k gold that amplifies the energy of the amethyst you should keep in mind that like other gold items you must care for your gold-plated amethyst so not to damage or tarnish the gold. 
To properly care for your gold-plated amethyst and safeguard it against tarnishing and scratches, follow these simple, but important steps:
Shield it from exposure to harsh chemicals such as perfumes or cleaning agents. Try your hardest to limit the amount of times that you handle the amethyst. We know it will be difficult with how beautiful the piece looks, but try your hardest!
Steer clear of abrasive materials or brushes that could mar its surface. 
Handle the piece with utmost care, refraining from excessive rubbing or accidental impacts. Each gold-plated amethyst arrives in a microfiber bag, feel free to wipe any fingerprints or smudges off with the bag.
Timeline
Please read carefully for production timelines.
In-Stock, ready to ship listings will ship within 1-2 business days.
See something you love but it's Out of Stock? Click on the "Notify Me When Available" button or purchase it "Made-to-Order".
All Made-to-Order pieces are handmade just for you and will take 3-5 weeks for delivery.
For inquiries regarding your order, please contact our team at: orders@angelamonacojewelry.com
Sustainability
All gemstones for our made-to-order jewelry or custom requests are ethically sourced when possible. 100% of our jewelry is made with recycled materials in our Philadelphia studio. 
If you are interested in using fair-mined gold for an order please email us at custom@angelamonacojewelry.com
FAQ
What does "Made-to-Order" mean?
It means that we start the process of making the jewelry piece you've ordered when you order it. All of our jewelry that is not listed as "In-Stock and Ready to Ship" is made to order due to each piece needing to be produced to fit your size, metal preference, and gemstone choice.
Can I pick up my order at your storefront?
Of course, we'd love to see you! Simply choose "In-store pickup" from the drop down menu for shipping options at checkout.  Your order will be gift wrapped and ready to go at our flagship store located at 2001 Walnut Street, Philadelphia, PA 19103 
What's the difference between "In-Stock" and "Made-to-Order"?
In-stock means we've already made the piece and it's in the size and with the specifications listed in its description. In-stock pieces are available both in store and online, and ready to ship within 3-4 business days!
Do you offer a gift wrap option?
We are happy to say that every piece of Angela Monaco Jewelry will arrive beautifully and lovingly gift-wrapped in our sustainable packaging and ready for gift-giving upon delivery. Engagement and wedding designs arrive in a branded velvet box ready to help pop the question!
Shipping
Shipping
Production times for made-to-order jewelry ranges between 4-6 weeks. In-Stock jewelry is ready to ship in 3-4 business days. We are happy to offer free shipping within the continental United States for orders over $150.
Returns & Exchanges
All made to order jewelry and custom pieces are final sale and are not eligible for returns or refunds. Exchanges may be made on case by case basis.
Get in touch
If you have a question about your order, please email us at orders@angelamonacojewelry.com with your order number so we may assist you as quickly as possible.
About us
Angela Monaco Jewelry
AMJ is a storefront and fine jewelry brand centering on connection with intuition and spirituality, reverence for the natural world, and indulging curiosity and creativity.
Lovingly & Locally Produced
100% of our production happens inside a one-mile radius within our beloved Center City Philadelphia neighborhood.
Sustainably Packaged
All of our packaging – from jewelry boxes, protective sateen baggies, and shopping bags to business cards, paper products, and shipping materials – are made from 90-100% post-consumer recycled fiber.