You know about the 4 Cs, now let's talk about the big B. Your budget is an important factor when designing an engagement ring. You've all heard this one before:
Myth: You should spend 2–3 months' salary on an engagement ring.
Tale as old as time, right? We're here to say this rule does not pass the vibe check. There is no such thing as the "right" amount to budget for a ring—you should only ever spend whatever you're comfortable with! A "smaller" budget does not mean you can't create an heirloom that you and your partner will treasure forever. Here are 5 things to consider when choosing a budget.
Be open and honest with your partner.
Better yet, bring them into the process! Managing expectations is important to make sure the both of you end up loving the ring, AND the investment you're making. Discussing a budget together is always a good idea, especially if you have other important milestones on the horizon, like buying a home or raising a family. Once you land on a number or range you're both comfortable with, we can work with you to create the ring of their dreams.
Every ring (and price) is completely unique.
Diamonds come in all shapes, sizes, cuts, colors, and clarity (and those are only a few of the many aspects we consider during the selection process). Choosing a stone can be daunting when it feels like there are endless options out there in the universe. Rest assured, no matter your budget, we can help guide you towards the right color and clarity grades for each shape that will maximize every penny.
Who says you need a natural, earth-mined diamond?
There are equally breathtaking stones that compare to diamonds in durability and aesthetic. Lab-Grown diamonds are a conflict-free and earth-friendly option that costs about 20-50% less than a mined stone. They have the same exact chemical composition of a naturally-occurring stone, the process is just sped up a couple million years in a lab. You can't tell the difference between them at all! They are 100% real, fiery diamonds—complete with grading, certifications, and of course, personality.
Moissanite is another super-affordable option that packs a whole lot of brilliance into one low price tag. And when we say brilliance, we mean it. Moissanite is a double refractive stone, so they'll splash rainbows across the room and really catch your eye. If you're in it for the max amount of sparkle and drama, Moissanite might be just the stone for you.
(More details on Lab-Grown Diamonds, Moissanite, and Gemstones coming soon!)
You can ALWAYS upgrade in the future.
Many couples decide to make tweaks to their original settings—because hey, time goes on, and tastes and trends change. Some choose to swap out the center stone and go for something with a little more oomph later on. Flanking a solitaire with two gorgeous side stones is an easy, instant upgrade. Two-stone rings are also gaining popularity—your center stone will dazzle next to a diamond or gemstone in another shape (and will maximize that finger coverage). And don't forget about wedding bands. You can achieve a bigger, more full-finger look with a glitzy diamond eternity band, or just add a couple more simple bands to your stack in eclectic shapes. The options are endless, and we'd be happy to work with you to give your ring finger the glow-up it deserves.
Shopping small does not mean more expensive (it's actually quite the opposite)!
If you're considering buying your ring from a major retailer, you're probably not going to get the best deal, nor will you have the flexibility to tailor your ring to your specific needs. We are custom-first (and at no extra cost). We'll go through all your options and make sure you're getting the most for your money. Together, we can design the ring you really want, without any of the brand name markups.
Still have questions? Wanna know how far your budget can get you? We've got answers. Learn more about our custom process or book a consultation.
Love Always,
Angela Monaco Jewelry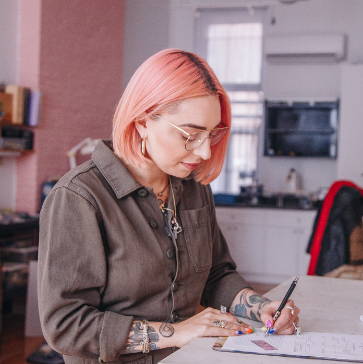 With ten plus years of jewelry experience, Angela's collaborative approach to custom jewelry design allows for each love story to shine.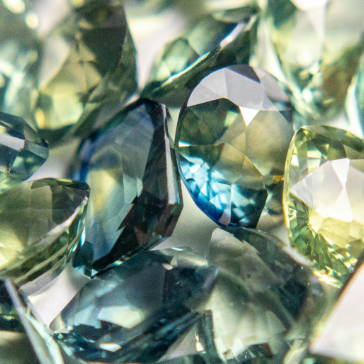 Sapphires are Now Available!
A very protective stone, sapphires are said to bring serenity and peace of mind while aligning the physical, mental, and spiritual planes.