Celebrating the December
Blues with
Topaz
This icy blue birthstone of Sagittarius and December babies is, surprisingly, strongly associated with fire. A balancing stone, it cools conflict, adds clarity and helps you find your voice.
Topaz is a silicate mineral made up of both aluminum and fluorine. Topaz comes in many colors and even in many tones of blue. Three types of blue topaz are most popular for jewelry: London Blue Topaz which has a rich, deep blue color with hints of green; the Swiss Blue Topaz with a vivid and bright appearance that comes from color-treating; and Sky Blue Topaz which is the most popular topaz and shares its tonality with aquamarine. This beautiful gemstone is sourced from Mexico, Brazil. China, the USA and Russia.
Long ago, the Romans discovered a beautiful island in the Red Sea that the Greeks called Topazios. Here the first topaz was discovered and quickly became the favorite gemstone of both artisans and aristocrats. The Romans came to associate the gemstone with strength for life's adventures, believing it to be a stone of protection. The blue topaz was found all over the globe and was revered by any culture that came across it. In the East, the Topaz was given its name, stemming from the Sanskrit word for fire. In Egypt, the blue topaz was strongly associated with the powerful sun god Ra. In the jungles of Brazil, the blue topaz was coveted as a cure for nearly every ailment, but only during the full moon. Later, in Europe, it was believed that topaz could undo spell bindings and even break the most powerful curse.
Blue Topaz has been long-associated with protection. Tied to the throat chakra, it allows for conflict resolution by encouraging clarity and confidence in communication. Additionally, it helps the wearer focus on the task at hand and clear the mind of obstructive clutter, making it a writer's favorite. Also known as a balancing stone, ancient civilizations used the topaz to relieve burns and cool boiling waters. Similarly, it can be used to provide equilibrium and prevent feelings of overwhelm. The stone's power even spans to your unconscious, allowing for a restful night of sleep and protection from nightmares.
Although traditionally the blue topaz has been associated with December birthdays, at AMJ we find additional power in another blue gemstone: turquoise. Turquoise is revered as the stone of wisdom and good fortune. We encourage you to celebrate December with any (or both) of these beautiful blue gemstones!
Love Always,

Angela Monaco Jewelry
December Blues Collection Highlights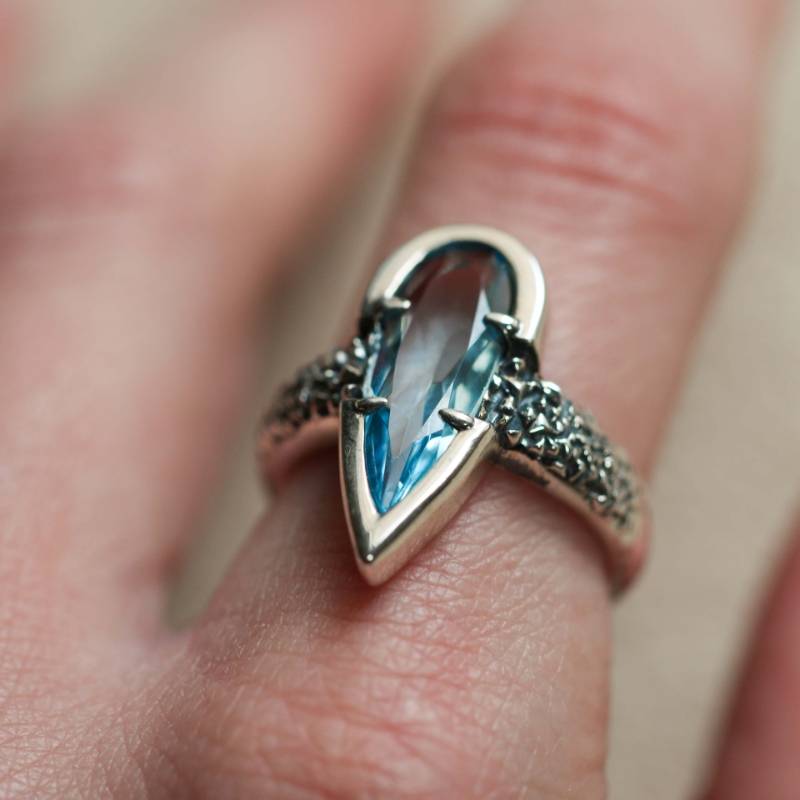 Topaz & Turquoise Jewelry at AMJ
At AMJ, we have a broad selection of Topaz and Turquoise jewelry, both in-stock and made-to-order. Whether you're looking for rings or other bling, we've got you covered.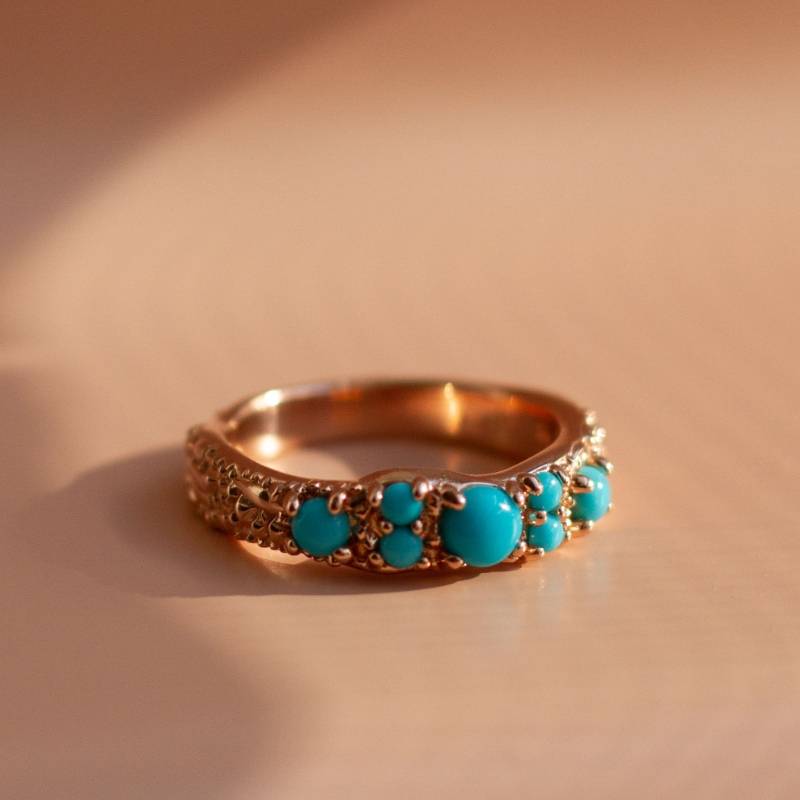 With ten plus years of jewelry experience, Angela's collaborative approach to custom jewelry design allows for each love story to shine - even a custom birthstone project!