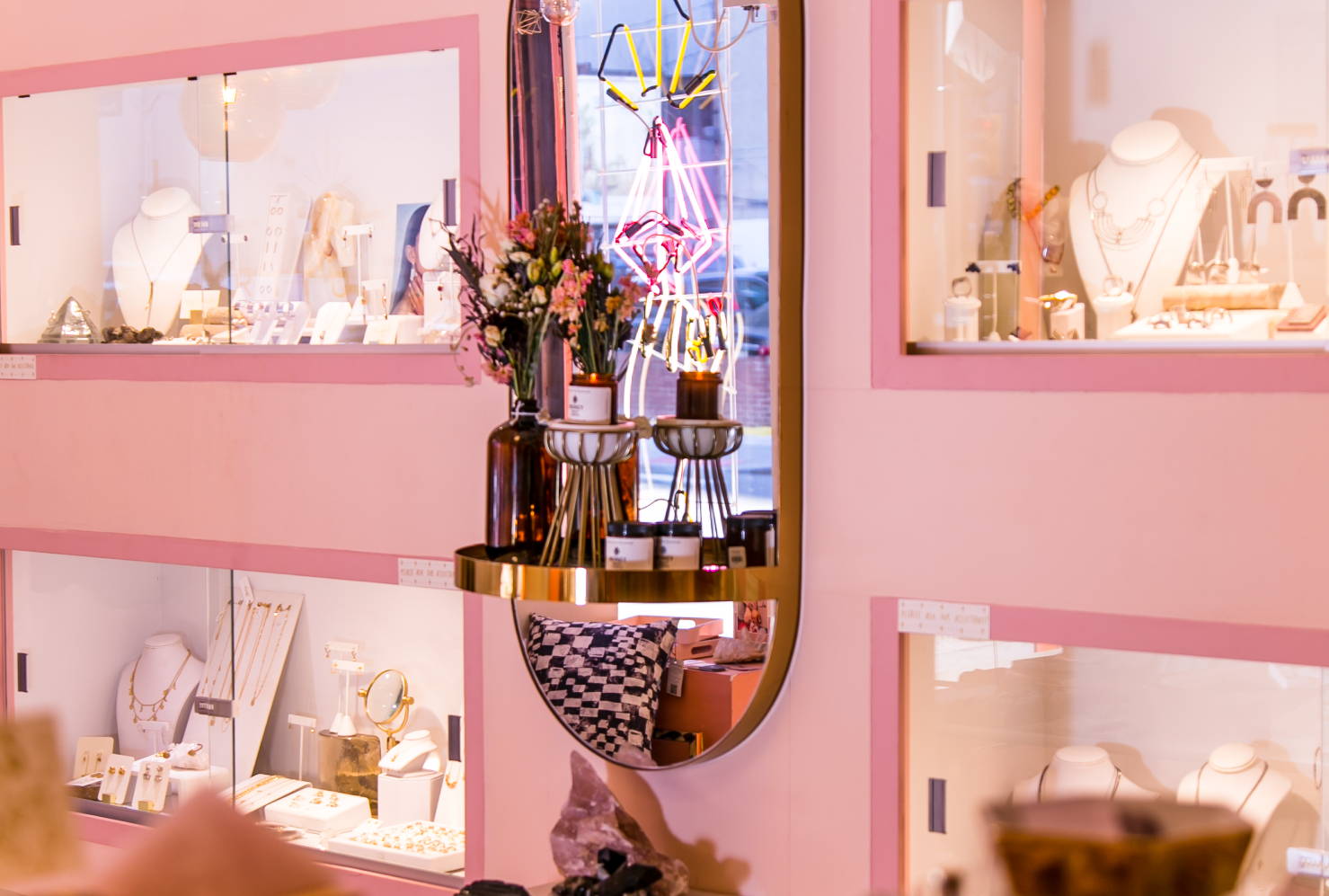 Happy 10 Years, Ritual Shoppe!
It's been the happiest decade making jewelry and being an entrepreneur all over the vibrant city of Philadelphia. We have moved. Twice. And rebranded even more times. We continue to evolve and grow up with all of you, our incredible customers. The lessons learned along the way are what make me who I am today, meaning every year is better than the last. Owning a business is a lifelong education as we learn how to operate in the ever-changing world and aim to create a healthy community for our fans and our staff (without forgetting about self care, too). To own a business you have to adapt to constant change, beef up your skills in problem-solving, and, most importantly, learn to trust in the good ol' Universe/God/Goddess/Higher Power, or whatever you call it.
For those of you that love a long read and want to know exactly how it all went down, here's the condensed version (someday I'll write that book 😉).
In 2011, I opened my first studio + retail space on 3rd Street in Northern Liberties. It was called "Concrete Polish" after my then jewelry line. Until we were ready to operate full-time, we were open by appointment-only or by chance. Raise your hands 🙌 if you were around for those days! I met my first, and lifelong, jeweler and maker besties in that space.
After spending three and a half years on 3rd St, we rebranded to Ritual Ritual and moved to 2nd St in "NoLibs". In this new space things really started to come together. We had plenty of square footage to work with and made use of it all. We had a community studio, a badass vintage section, plants, gifts, tarot and, of course, jewelry. After spending a few years in that space I decided to rebrand my jewelry line back to my real name after a friend (love you, Liz) made the suggestion. There, Angela Monaco Jewelry was born. We birthed a brand new website, new branding (thanks @kimdlynx) and even had a beautiful photoshoot of my first fine jewelry collection, "Ceremonious", shot by @SophieCecilXU.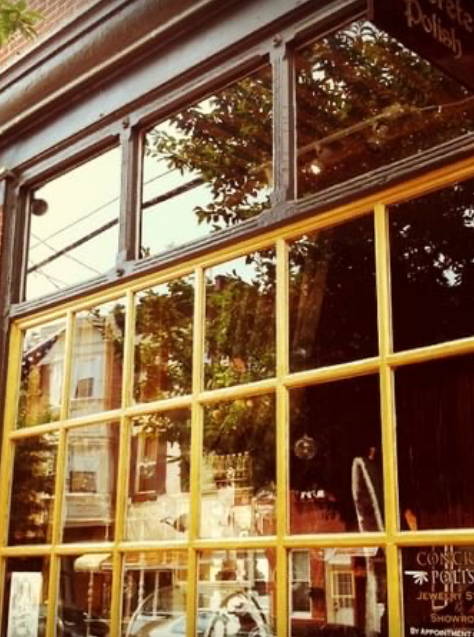 circa 2011: our first store on 3rd Street called Concrete Polish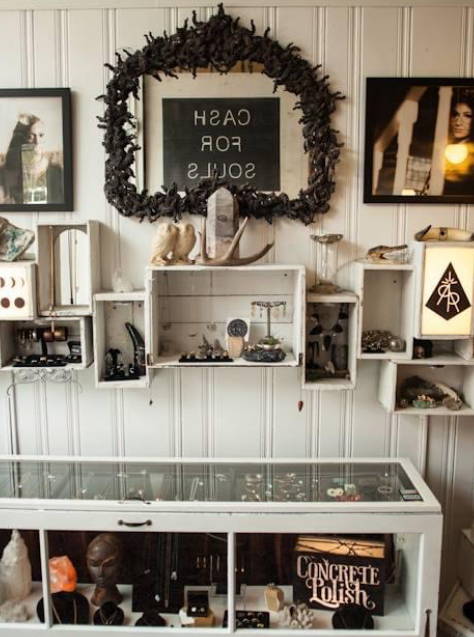 circa 2014: We rebranded to Ritual Ritual and redesigned our 3rd Street store
This was the point at which I started to realize that AMJ and Ritual were sisters not twins and made the decision to give them each room to grow separately, while becoming the bridge toggling between and connecting the two. In 2018, we got a shocking notice that the building was selling. We either had to buy the building, which at the time was a pipe-dream, sign a 5-year lease to protect us from buyers, or be out in 60 days. I panicked. But after the initial shock, I came to the realization that I wasn't committed long-term to this space. I was dreaming of scaling down and getting back to what I do best: jewelry with a touch of Spirituality, wellness and design.
One day, after an appointment in Philadelphia's beautiful Rittenhouse Square, I went for a walk. I'd never considered moving to the area but something called me to check it out. Less than half a block away, I saw a papered up space and a "FOR RENT" sign with just enough clear glass to look through. I felt a connection immediately; this was my space. I called the real estate company every day, multiple times a day, for two weeks until they finally got back to me.
It took us about 3.5 months after signing the lease to get the new Ritual Shoppe built. We rebranded, mainly because Ritual Ritual is quite the tongue twister. We also wanted the space to feel open and welcome to all walks of life. We introduced way more color (I was on a serious pink kick) and were open on 12/12/2018, just in time for a short holiday season.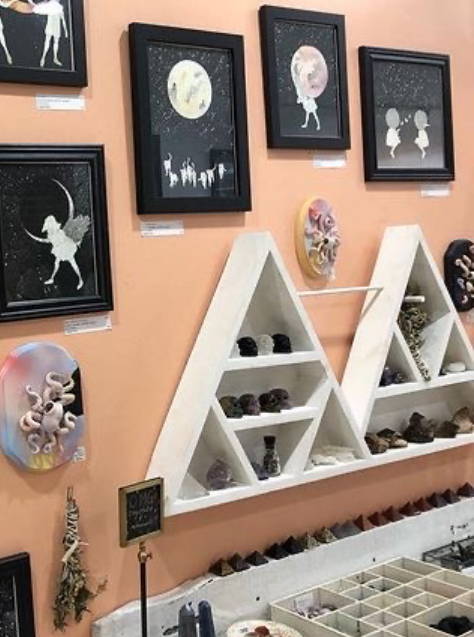 circa 2016: Our freshly updated 2nd Street location of Ritual Ritual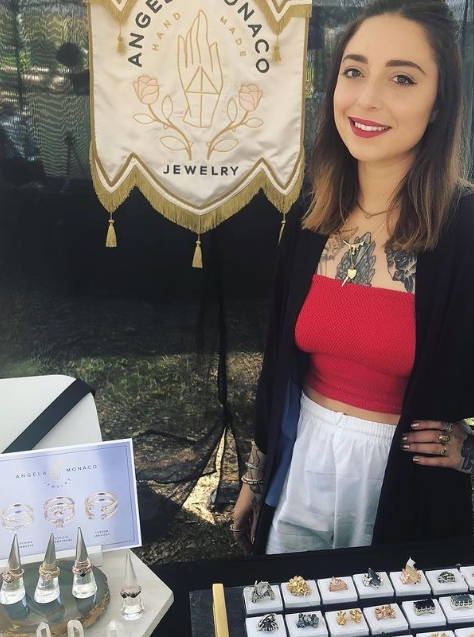 circa 2017: We rebranded our jewelry line from Concrete Polish to Angela Monaco Jewelry
It's been almost three years in our Rittenhouse space, half of which has been, well, you know, the pandemic. We've been through a lot, just like most businesses, and we've pulled through even stronger with the best team a girl could ask for. We've added a lot of new offerings while continuing to focus on what we do best: Jewelry, jewelry, jewelry! I have personally focused my energy as a maker towards fine jewelry, engagement and wedding but find great joy in creating badass statement rings from time to time.
We have so many exciting things on the horizon for Ritual Shoppe and Angela Monaco Jewelry (HINT: AMJ may be getting a home of its own!) and look forward to keeping our doors open safely no matter what is thrown our way.

A special thanks to all of you for being with us on this incredible journey. And, if you made it to the end of this post- we see you, Ride-or-Die! 🥰
Love Always,
Angela