An Opalescent Opportunity: How to Wield Opal's Powerful Energy This October
October is a time of transition and anticipation and with that comes a need for introspection and grounding. Read why we're wearing opals, October's birthstone, this season and beyond!
Opals, like obsidian and pearl, are classified as mineraloids because they lack the crystalline structure of minerals such as diamonds or sapphires. When water runs through the earth, it picks up and packs silica particles, forming opals over time. Opals contain silicon dioxide and various percentages of water (usually 6-10%).
Opals are classified into two categories: common and precious. In order to qualify as "precious", an opal must contain plays of color and iridescent qualities. Opals can occur in transparent, translucent, or opaque variations and are found in nearly every color-way, even black, while white, green and gray are most common.
Thought to have been originally mined in the Carpathian Mountains as far back as 400 BC (it was even featured in the writings of Plato!), opal was revered as a stone of good luck. Because of its multicolored appearance, it was thought to possess the magical properties of all other stones. Opal's name comes from the Sanskrit word "Upala" meaning precious stone.
Unfortunately, after the popular novel Anne of Geierstein, in which a woman's demise and eventual death was caused by her opal adornments, was published in the 19th century, the gemstone fell out of favor. Slowly, it regained popularity and is now, again, one of the most popular gemstones among jewelers and jewelry-lovers.
Opal is now celebrated as the national gemstone of Australia from where it is primarily sourced.
Opal is believed to hold the power to amplify, aiding the wearer in accessing and evaluating their emotional state and therefore releasing misconceptions to reveal a truer self. It's the gemstone of introspection but also liberation, encouraging you to let go of that which no longer serves you. It's the ideal gemstone for transitional seasons like fall, as the natural world undergoes its own transformation. A favorite among artists, opals encourage both freedom and independence while stimulating originality and creativity.
Opal is associated with the root chakra and therefore brings stability, security and grounding. It assists in healing and rebuilding the immune system and was once celebrated across Europe as a gemstone that cures ailments of the eyes. A stone of light, opal bridges a path to the spiritual realm and strengthens psychic abilities. Opal can be worn on its own or, to further strengthen your root chakra, wear it with tourmaline, smoky quartz and garnet.
We're looking forward to digging in deep together this fall, adorned in opals.
Love Always,

Angela Monaco Jewelry
Opal Collection Highlights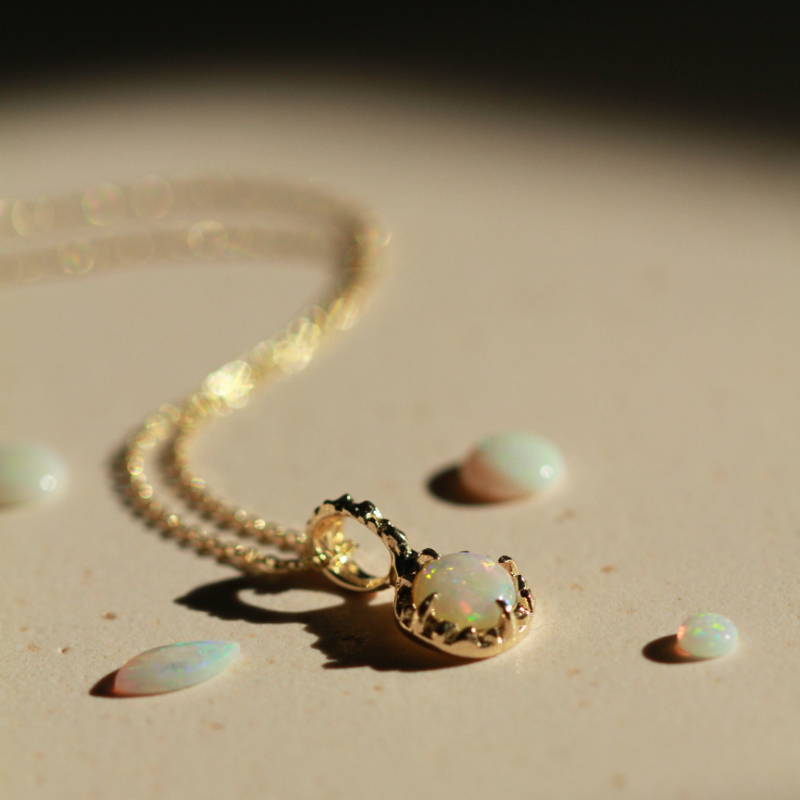 At AMJ, we have a broad selection of Opal jewelry, both in-stock and made-to-order. Whether you're looking for rings or other bling, we've got you covered.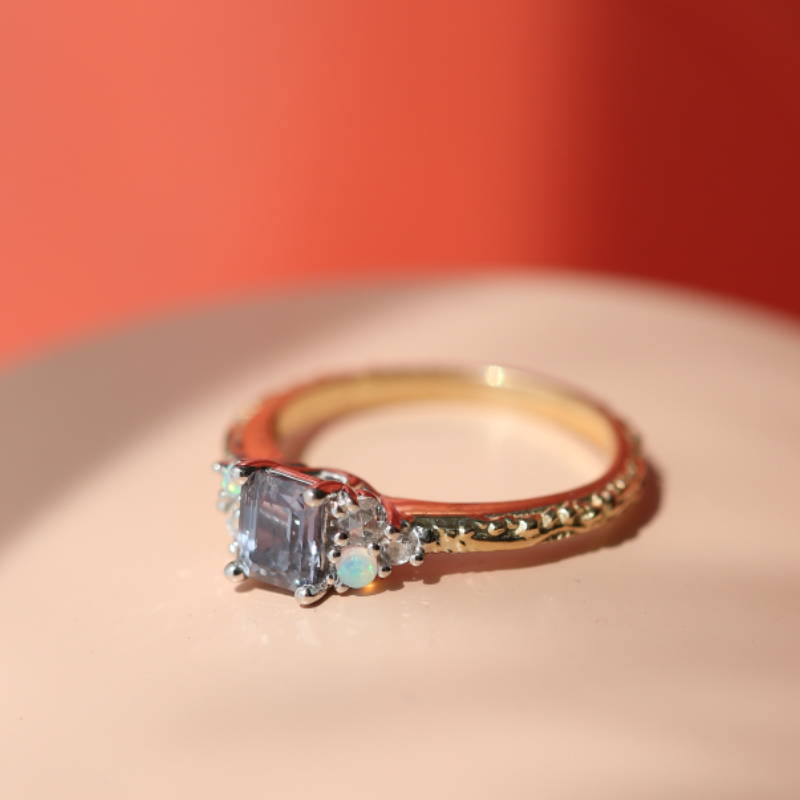 With ten plus years of jewelry experience, Angela's collaborative approach to custom jewelry design allows for each love story to shine.