An Engagement Near and Dear to Our Hearts | Alexa & Ian
This year in honor of V-day and all things LOVE, we thought it would be the sweetest to highlight a recent love story that is so very, near and dear to our hearts.
Over the holidays our very own, Alexa who is Ritual Shoppe's Brand Director (if you have visited Ritual Shoppe or follow us on Instagram, chances are you have seen her warm, smiling face) got engaged to her middle school sweetheart, Ian!
Share in their joy by reading the adorable details of their engagement below and sneak a peek into the custom design process of Alexa's ring.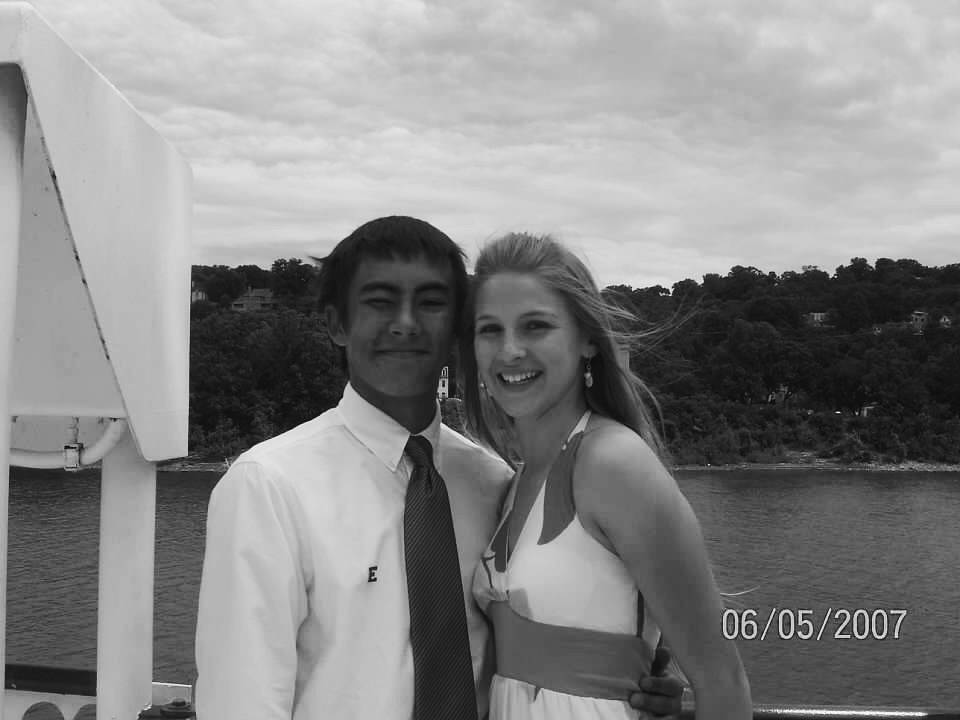 Ian proposed to Alexa on a winter evening while he was walking her home from work like he does everyday. As he grabbed her hand and she sensed the change in direction, Alexa had no idea why he suddenly wanted to walk a different way that night. But then they ended up under the big Christmas tree in Philadelphia's Christmas Village.
Under the magical twinkle of the light and Christmas spirit that shines over and encompasses the Christmas Village at Dilworth Park (and adjacent to Philadelphia's famous LOVE statue), Ian asked Alexa to marry him and of course said- YES! Actually, we are told she was so surprised she said- "holy sh*t!"
And then, the icing on the cake and one of the most serendipitous things we've ever heard. The song that in middle school, came on when they shared first kiss, started playing over the loud speakers while everyone cheered for them!
We couldn't be happier for these two love birds and we are honored to simply know them. And then, of course getting the chance to create something just for Alexa alongside Ian, was just so special to us.
Alexa loves antiques, and all things vintage. She also cares deeply about sustainability, so of course we sought out and sourced the most perfect Antique Moval Diamond for the stunning center stone to create the entire ring around.
A Moval is a unique and rare cut as it is a cross between an Oval Cut and Marquise Cut. The side diamonds are very special, unique finds as well as they are natural, champagne pink diamonds which are ethically sourced from the Argyle Mine in Australia. (Fun and silly fact - these are actually the same type of diamonds that lil Uzi put in his forehead).
Below is a picture of the actual diamonds used for Alexa's ring plus her top three core values when it comes to choosing an engagement ring.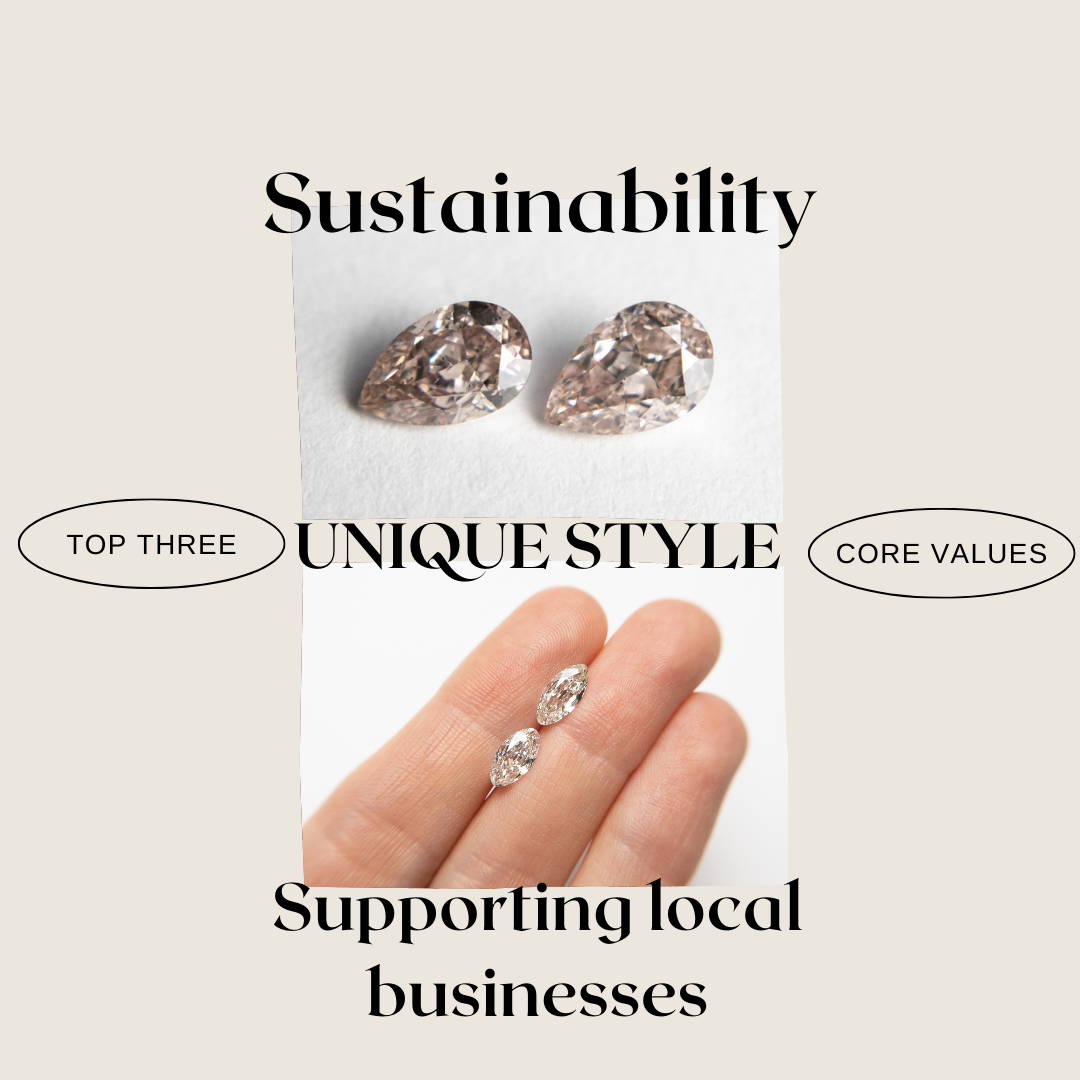 Since we know Alexa so well, we were truly in a unique position to really nail this design for her and Ian. And since we've of course chatted about all things jewelry because it is what we do, we knew that she for sure wanted a three stone engagement ring and wanted something that was classic and beauteous- just like her!
So with all that in mind, we designed exactly that, a classic and beauteous ring with this unique set of diamonds paired with a classic yellow gold setting and band.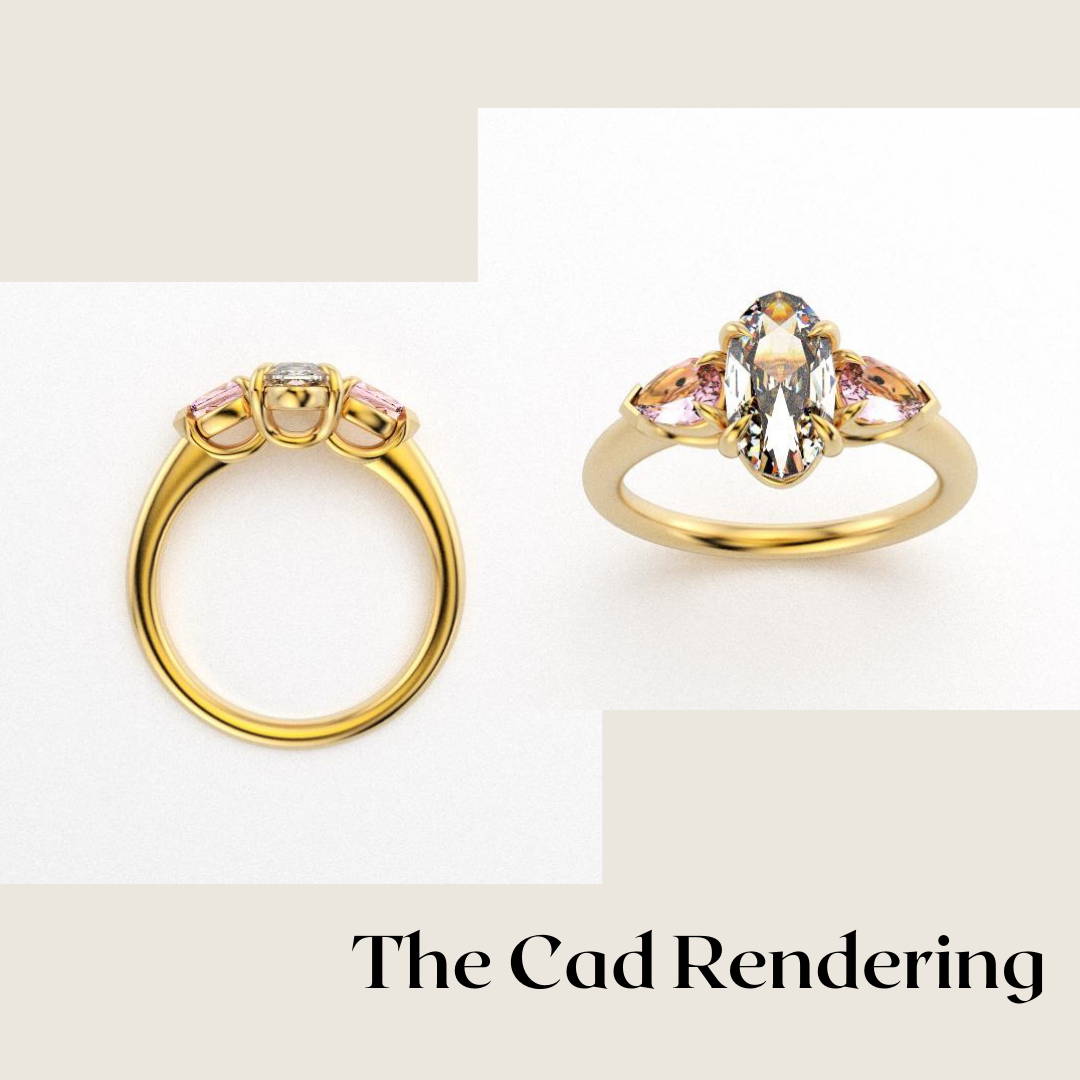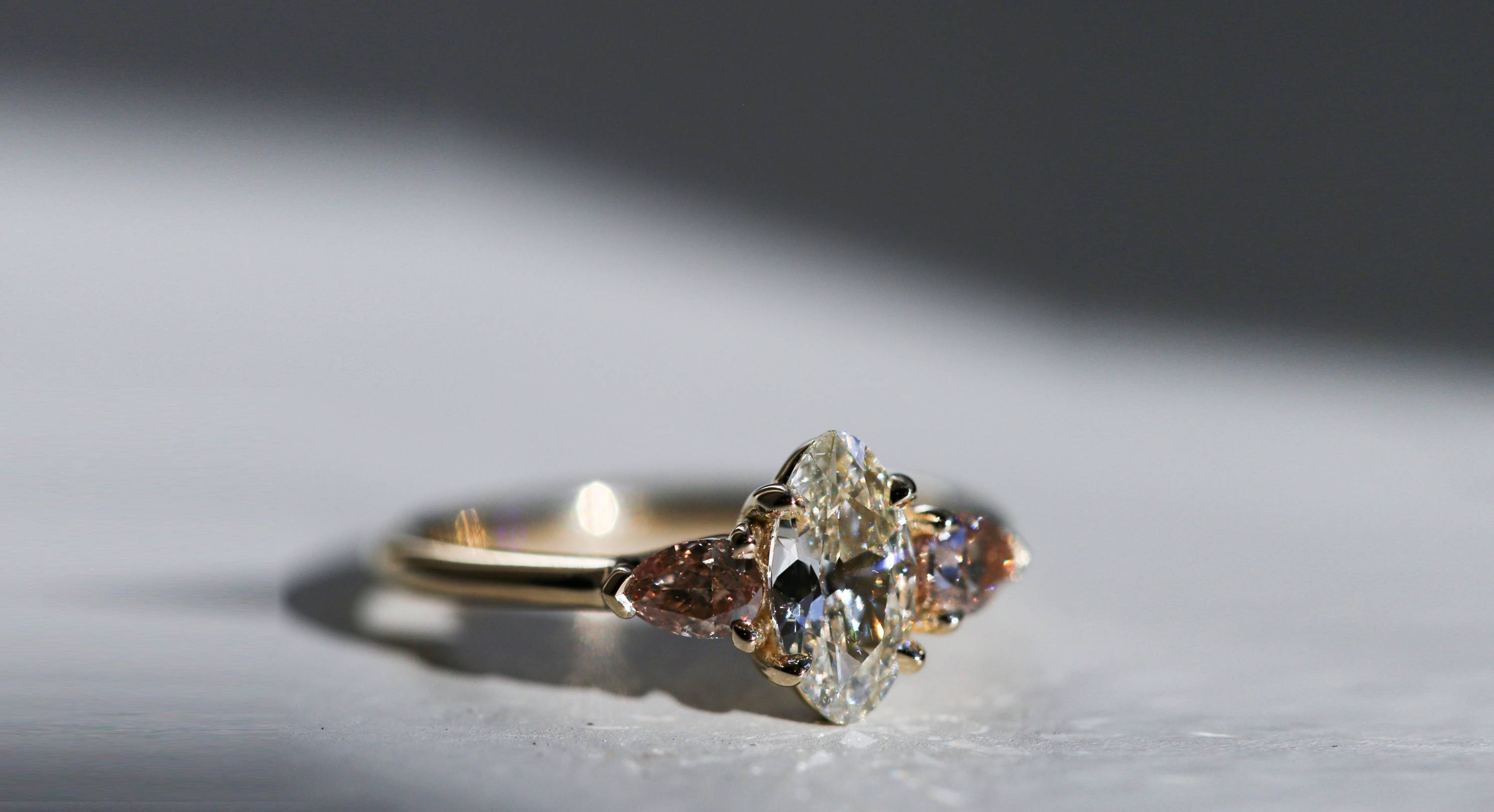 For every custom project completed Angela Monaco Jewelry, donates $50 to an organization of the couples choice. Ian and Alexa chose, Beat The Streets Philadelphia.
Ian used to coach and volunteer with Beat The Streets and so the organization is very special to both of them. Check it out here and consider donating if you'd like- Beat The Streets Philadelphia - Donate Now
We hope Ian and Alexa's story warmed your heart and maybe inspired you to create your own custom jewelry piece with AMJ as well.

Pssst- We will be following these two during the various parts of the journey down the aisle so if you aren't already be sure to follow AMJ on instagram and if you happen to see Alexa and Ian in the city, wish them a congratulations!

Love Always,

Angela Monaco Jewelry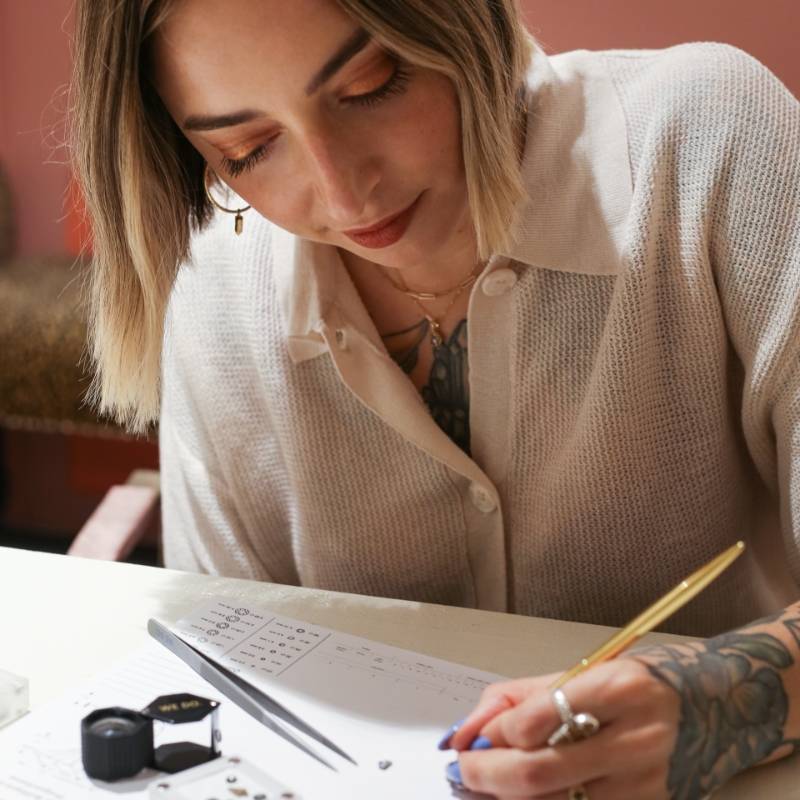 With ten plus years of jewelry experience, Angela's collaborative approach to custom jewelry design allows for each love story to shine.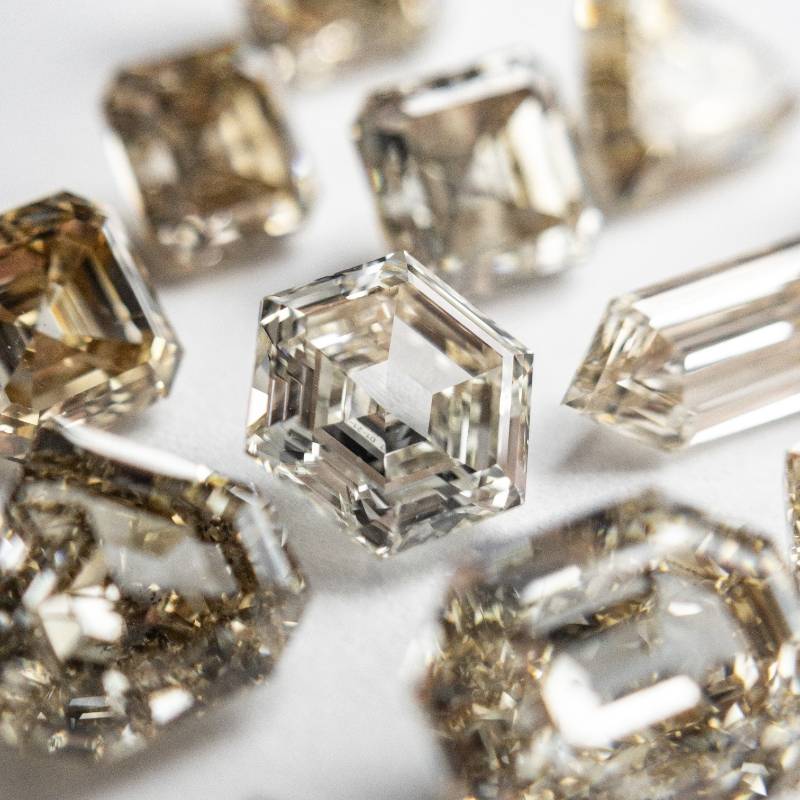 Our partnership with Misfit Diamonds means we get to bring you the biggest collection of loose diamonds like these beautiful new Canadian gems.